100% Nitrous Oxide (N2O) E942 Food Grade
MaxxiLine Gas Bottle
MaxxiLine 1100g N2O, 800g N2O, 615g N2O, 580g N2O disposable cylinders are suited for catering purpose and for the professionals users in the food industry.

MaxxiLine N2O cream chargers contain from 70 (580g N2O) to 135 (1100g N2O) times more nitrous oxide than 8g whip cream canisters, giving you higher performance and efficiency in the kitchen.
MaxxiLine N2O nitrous oxide cream chargers have the perfect size to be used in the restaurant kitchen. This is because it can charge multiple devices without replacing the nitrous oxide cream charger. So that you don't have the hassle of having to refill the device with nitrous oxide during the creation of a dish.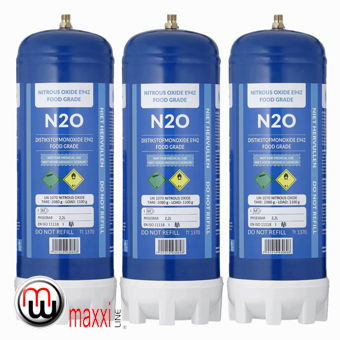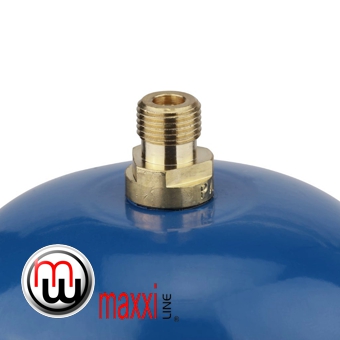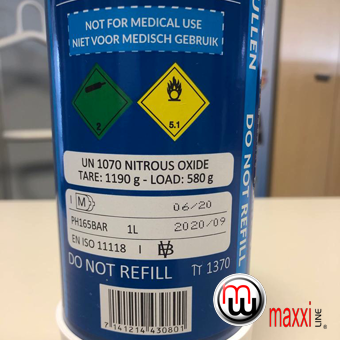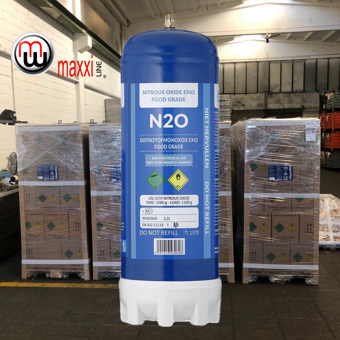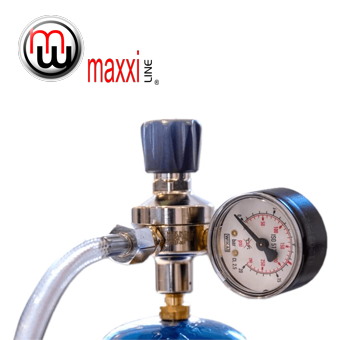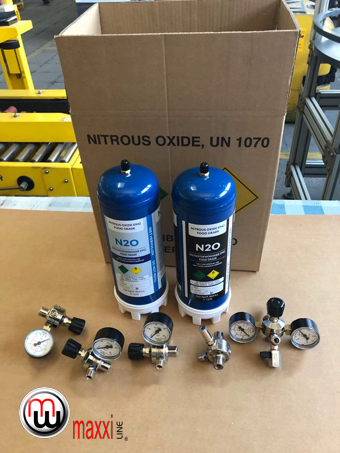 Nitrous oxide gas (N2O) E942 food grade.

580g cream charger. No more need for hundreds of 8g chargers, giving you higher performance and efficiency in the kitchen.

Completely disposable / recyclable steel cylinder.

Can be used with our Gas Pressure regulator M11x1 (20 BAR) to fit the whipped cream dispensers / syphon.

On request pressure release nozzle to completely empty canisters before disposal.

Need custom OEM services? Reach out to us to customize your project! We an reliable OEM manufacturer to numerous reputable companies !

If you have any enquiries or would like further information on MaxxiLine N2O cream chargers

| | |
| --- | --- |
| Volume (V): | 1 Litre |
| Content: | 580gr. |
| Test Pressure (Ph): | 165 bar |
| Dimension (mm): | Diam. 80 x Length 285 (with plastic stand) |
| Weight/Tare (gr): | 1190 |
| Material: | Steel P355NB EN 10120 |
| Valve: | UNI EN ISO 11118:2015 |
| Packaging: | Carboard box of 6pcs |
| Non Refillable Gas Bottle: | UNI EN ISO 11118:2015 |
| UN.Nr./Class: | 1070 CLASS 2.2 - 5.1 |
Nitrous oxide gas (N2O) E942 food grade.

800g cream charger. No more need for hundreds of 8g chargers, giving you higher performance and efficiency in the kitchen.

Completely disposable / recyclable steel cylinder.

Can be used with our Gas Pressure regulator M11x1 (20 BAR) to fit the whipped cream dispensers / syphon.

On request pressure release nozzle to completely empty canisters before disposal.

Need custom OEM services? Reach out to us to customize your project! We an reliable OEM manufacturer to numerous reputable companies !

If you have any enquiries or would like further information on MaxxiLine N2O cream chargers

| | |
| --- | --- |
| Volume (V): | 1.8 Litre |
| Content: | 800gr. |
| Test Pressure (Ph): | 163 bar |
| Dimension (mm): | Diam. 102 x Length 280 (with plastic stand) |
| Weight/Tare (gr): | 1800 |
| Material: | Steel P355NB EN 10120 |
| Valve: | UNI EN ISO 11118:2015 |
| Packaging: | Carboard box of 6pcs |
| Non Refillable Gas Bottle: | UNI EN ISO 11118:2015 |
| UN.Nr./Class: | 1070 CLASS 2.2 - 5.1 |
Nitrous oxide gas (N2O) E942 food grade.

1100g cream charger. No more need for hundreds of 8g chargers, giving you higher performance and efficiency in the kitchen.

Completely disposable / recyclable steel cylinder.

Can be used with our Gas Pressure regulator M11x1 (20 BAR) to fit the whipped cream dispensers / syphon.

On request pressure release nozzle to completely empty canisters before disposal.

Need custom OEM services? Reach out to us to customize your project! We an reliable OEM manufacturer to numerous reputable companies !

If you have any enquiries or would like further information on MaxxiLine N2O cream chargers

| | |
| --- | --- |
| Volume (V): | 2.2 Litre |
| Content: | 1100gr. |
| Test Pressure (Ph): | 163 bar |
| Dimension (mm): | Diam. 102 x Length 325 (with plastic stand) |
| Weight/Tare (gr): | 2080 |
| Material: | Steel P355NB EN 10120 |
| Valve: | UNI EN ISO 11118:2015 |
| Packaging: | Carboard box of 6pcs |
| Non Refillable Gas Bottle: | UNI EN ISO 11118:2015 |
| UN.Nr./Class: | 1070 CLASS 2.2 - 5.1 |
Nitrous oxide gas (N2O) E942 food grade.

615g cream charger. No more need for hundreds of 8g chargers, giving you higher performance and efficiency in the kitchen.

Completely disposable / recyclable steel cylinder.

Can be used with our Gas Pressure regulator M11x1 (20 BAR) to fit the whipped cream dispensers / syphon.

On request pressure release nozzle to completely empty canisters before disposal.

Need custom OEM services? Reach out to us to customize your project! We an reliable OEM manufacturer to numerous reputable companies !

If you have any enquiries or would like further information on MaxxiLine N2O cream chargers.

| | |
| --- | --- |
| Volume (V): | 1 Litre |
| Content: | 615gr. |
| Test Pressure (Ph): | 165 bar |
| Dimension (mm): | Diam. 80 x Length 285 (with plastic stand) |
| Weight/Tare (gr): | 1190 |
| Material: | Steel P355NB EN 10120 |
| Valve: | UNI EN ISO 11118:2015 |
| Packaging: | Carboard box of 6pcs |
| Non Refillable Gas Bottle: | UNI EN ISO 11118:2015 |
| UN.Nr./Class: | 1070 CLASS 2.2 - 5.1 |