100% Helium
MaxxiLine Gas Bottle
MaxxiLine disposable Helium gas bottles are suitable for inflating latex and foil balloons with helium gas.

MaxxiLine disposable Helium gas bottle is meant to be used with the Air Swimmers Flying Fish - Clownfish and Air Swimmers Flying Fish - Shark.
MaxxiLine gas bottles are filled with 100% Helium and NOT with mixture of Helium and Air as many similar products available on the market.
Each bottle come with our "Push-To-Fill" Helium Balloon Filler Nozzle allows you to fill Latex and Foil balloons in a snap.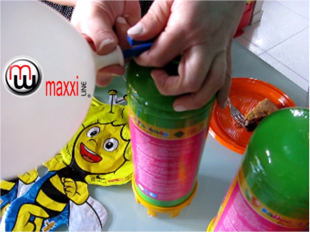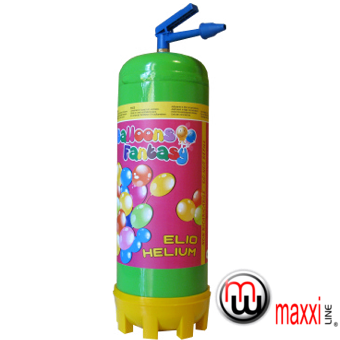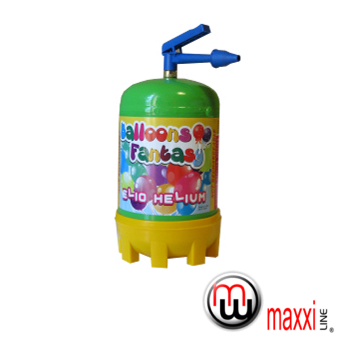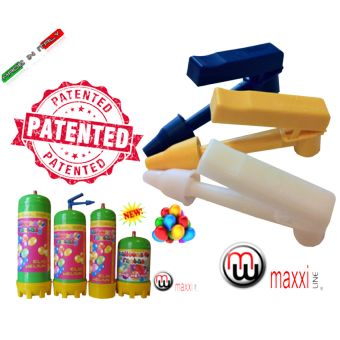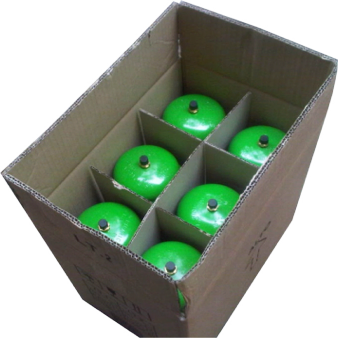 MaxxiLine 1l Helium Disposable Gas Bottle WP 110 bar (110 Litre) UNI EN ISO 11118 is used to fill up the balloons with helium.

Unused helium gas can be stored safely for future use.

Each bottle come with our "Push-To-Fill" Helium Balloon Filler Nozzle allows you to fill Latex and Foil balloons in a snap.

| | |
| --- | --- |
| Volume (V): | 1 Litre |
| Pressure to +20°C: | 110 bar (110 Litre) |
| Test Pressure (Ph): | 165 bar |
| Dimension (mm): | Diam. 80 x Length 285 (with plastic stand) |
| Weight/Tare (gr): | 1190 |
| Material: | Steel P355NB EN 10120 |
| Valve: | UNI EN ISO 11118:2015 |
| Packaging: | Carboard box of 6pcs |
| Non Refillable Gas Bottle: | UNI EN ISO 11118:2015 |
| UN.Nr./Class: | 1046 - Class 2.2 |
MaxxiLine 1.8l Helium Disposable Gas Bottle WP 90 bar (160 Litre) is used to fill up the balloons with helium.

Unused helium gas can be stored safely for future use.

Each bottle come with our "Push-To-Fill" Helium Balloon Filler Nozzle allows you to fill Latex and Foil balloons in a snap.

| | |
| --- | --- |
| Volume (V): | 1.8 Litre |
| Pressure to +20°C: | 90 bar (160 Litre) |
| Test Pressure (Ph): | 163 bar |
| Dimension (mm): | Diam. 102 x Length 280 (with plastic stand) |
| Weight/Tare (gr): | 1800 |
| Material: | Steel P355NB EN 10120 |
| Valve: | UNI EN ISO 11118:2015 |
| Packaging: | Carboard box of 6pcs |
| Non Refillable Gas Bottle: | UNI EN ISO 11118:2015 |
| UN.Nr./Class: | 1046 - Class 2.2 |
MaxxiLine 2.2l Helium Disposable Gas Bottle WP 100 bar (220 Litre) is used to fill up the balloons with helium.

Unused helium gas can be stored safely for future use.

Each bottle come with our "Push-To-Fill" Helium Balloon Filler Nozzle allows you to fill Latex and Foil balloons in a snap.

| | |
| --- | --- |
| Volume (V): | 2.2 Litre |
| Pressure to +20°C: | 100 bar (220 Litre) |
| Test Pressure (Ph): | 163 bar |
| Dimension (mm): | Diam. 102 x Length 325 (with plastic stand) |
| Weight/Tare (gr): | 2080 |
| Material: | Steel P355NB EN 10120 |
| Valve: | UNI EN ISO 11118:2015 |
| Packaging: | Carboard box of 6pcs |
| Non Refillable Gas Bottle: | UNI EN ISO 11118:2015 |
| UN.Nr./Class: | 1046 - Class 2.2 |
We are pleased to announce the introduction of a comprehensive line of gas-filled MiniBottles. MaxxiLine MiniBottles have 1.2 liter water capacity WP 100 bar (120 Litre) and are being filled with the following gases : Argon, CO2 (600gr), CO2 E290 food grade (600gr), Argon/Co2, Argon/O2, N2O E942, Oxygen, Nitrogen, Nitrogen E941 food grade, Nitrogen/Hydrogen and Helium

Click here to Download Datasheet

If you have any enquiries or would like further information on MaxxiLine 1.2ltr Helium MiniBottle click here.

MaxxiLine 1.2l Helium Disposable Gas Bottle WP 100 bar (120 Litre) is used to fill up the balloons with helium.

Unused helium gas can be stored safely for future use.

Each bottle come with our "Push-To-Fill" Helium Balloon Filler Nozzle allows you to fill Latex and Foil balloons in a snap.

| | |
| --- | --- |
| Volume (V): | 1.2 Litre |
| Pressure to +20°C: | 100 bar (120 Litre) |
| Test Pressure (Ph): | 163 bar |
| Dimension (mm): | Diam. 102 x Length 195 (with plastic stand) |
| Weight/Tare (gr): | 1280 |
| Material: | Steel P355NB EN 10120 |
| Valve: | UNI EN ISO 11118:2015 |
| Packaging: | Carboard box of 6pcs |
| Non Refillable Gas Bottle: | UNI EN ISO 11118:2015 |
| UN.Nr./Class: | 1046 - Class 2.2 |