100% Nitrogen Industrial Grade for HVAC&R
MaxxiLine Gas Bottle
MaxxiLine Nitrogen (N2) disposable gas cylinders, are commonly used in the Air Conditioning / Refrigeration industry to purge moisture while repairing pipes.
MaxxiLine Nitrogen (N2) disposable gas bottles are commonly used gas to pressure test systems prior to refrigerant charge, or as part of servicing following refrigerant recovery.
Hydrogen gas has a number of unique properties which make it an excellent trace gas for use in leak detection. We recommend MaxxiLine industrial grade mix of 5% Hydrogen in Nitrogen (N2H2). This mix holds the important features needed for using Hydrogen as trace gas.
MaxxiLine Purge Kit is the ideal kit for HVAC and Refrigeration installers and service technicians. This Kit provides all tools needed to pressure check the HVAC and Refrigeration lines, leak testing after brazing, flush drainage lines, blow clean components, and purge AC line sets .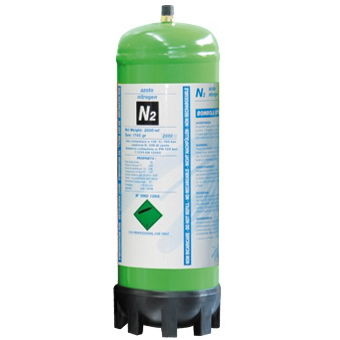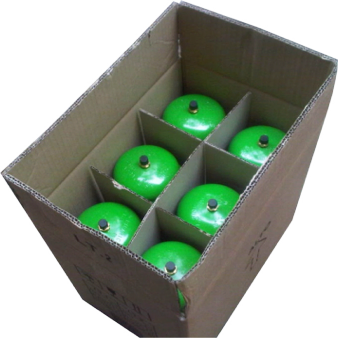 Nitrogen is the standard medium for contamination-free storage because it is relatively inert, it neither reacts with stored materials nor carries moisture, and because it can be isolated and purified relatively inexpensively.

MaxxiLine 1l 100% Nitrogen Disposable Bottle WP 110 bar (110 Litre) UNI EN ISO 11118 - Valve Thread M10x1

MaxxiLine 1l 95% Nitrogen - 5% Hydrogen (N2H2) Disposable Bottle WP 110 bar (110 Litre) UNI EN ISO 11118 - Valve Thread M10x1

| | |
| --- | --- |
| Volume (V): | 1 Litre |
| Pressure to +20°C: | 110 bar (110 Litre) |
| Test Pressure (Ph): | 165 bar |
| Dimension (mm): | Diam. 80 x Length 285 (with plastic stand) |
| Weight/Tare (gr): | 1190 |
| Material: | Steel P355NB EN 10120 |
| Valve: | UNI EN ISO 11118:2015 |
| Packaging: | Carboard box of 6pcs |
| Non Refillable Gas Bottle: | UNI EN ISO 11118:2015 |
| UN.Nr./Class: | 1066 - Class 2.2 |
MaxxiLine 1.8l 100% Nitrogen Disposable Bottle WP 90 bar (160 Litre) - Valve Thread M10x1

MaxxiLine 1.8l 95% Nitrogen - 5% Hydrogen (N2H2) Disposable Bottle WP 90 bar (160 Litre) - Valve Thread M10x1

| | |
| --- | --- |
| Volume (V): | 1.8 Litre |
| Pressure to +20°C: | 90 bar (160 Litre) |
| Test Pressure (Ph): | 163 bar |
| Dimension (mm): | Diam. 102 x Length 280 (with plastic stand) |
| Weight/Tare (gr): | 1800 |
| Material: | Steel P355NB EN 10120 |
| Valve: | UNI EN ISO 11118:2015 |
| Packaging: | Carboard box 6pcs |
| Non Refillable Gas Bottle: | UNI EN ISO 11118:2015 |
| UN.Nr./Class: | 1066 - Class 2.2 |
MaxxiLine 2.2l 100% Nitrogen Disposable Bottle WP 100 bar (220 Litre) - Valve Thread M10x1

MaxxiLine 2.2l 95% Nitrogen - 5% Hydrogen (N2H2) Disposable Bottle WP 100 bar (220 Litre) - Valve Thread M10x1

| | |
| --- | --- |
| Volume (V): | 2.2 Litre |
| Pressure to +20°C: | 100 bar (220 Litre) |
| Test Pressure (Ph): | 163 bar |
| Dimension (mm): | Diam. 102 x Length 325 (with plastic stand) |
| Weight/Tare (gr): | 2080 |
| Material: | Steel P355NB EN 10120 |
| Valve: | UNI EN ISO 11118:2015 |
| Packaging: | Carboard box 6pcs |
| Non Refillable Gas Bottle: | UNI EN ISO 11118:2015 |
| UN.Nr./Class: | 1066 - Class 2.2 |


We are pleased to announce the introduction of a comprehensive line of gas-filled MiniBottles. MaxxiLine MiniBottles have 1.2 liter water capacity WP 100 bar (120 Litre) and are being filled with the following gases : Argon, CO2 (600gr), CO2 E290 food grade (600gr), Argon/Co2, Argon/O2, N2O E942, Oxygen, Nitrogen, Nitrogen E941 food grade, Nitrogen/Hydrogen and Helium

Click here to Download Datasheet

If you have any enquiries or would like further information on MaxxiLine 1.2ltr Nitrogen - 5%H2 95%N2 Mix (H2N2) MiniBottle click here.

MaxxiLine 1.2l 100% Nitrogen Disposable Bottle WP 100 bar (120 Litre) - Valve Thread M10x1

MaxxiLine 1.2l 95% Nitrogen - 5% Hydrogen (N2H2) Disposable Bottle WP 120 bar (120 Litre) - Valve Thread M10x1

| | |
| --- | --- |
| Volume (V): | 1.2 Litre |
| Pressure to +20°C: | 100 bar (120 Litre) |
| Test Pressure (Ph): | 163 bar |
| Dimension (mm): | Diam. 102 x Length 195 (with plastic stand) |
| Weight/Tare (gr): | 1280 |
| Material: | Steel P355NB EN 10120 |
| Valve: | UNI EN ISO 11118:2015 |
| Packaging: | Carboard box of 6 or 12pcs |
| Non Refillable Gas Bottle: | UNI EN ISO 11118:2015 |
| UN.Nr./Class: | 1066 - Class 2.2 |